WHat Comes With My Photo Booth Rental Package?
Your Photo Booth Package will come with all the bells and whistles!
 we arrive early for  Included Set-Up Before your Event Begins
 Your Photo Booth Comes With a Full Time Attendant to assist the Guests and to ensure its running smoothly
Your Photo Booth Is automated, and "Open Style" Not a small Blow up thing to squeeze into.
 We will DESIGN a custom Photo Template  to fit your needs specifically
We use only commercial Equipment, Cameras, Printers, Backdrops, etc
Your Photo Booth will come with Photo Props
 We will Custom Design Your Photo Strip Template "Name,Date,Logo Or anything else you want on the Photo Strips or 4x6 Prints.
 Your Guests will receive their photos Instantly after exiting the booth from our High Grade commercial DNP Photo Printer.
The Photo Strips print in pairs o  f (2)    2x6 Strips with 3-4 Poses per strip. Or You may Choose to go with a 4x6 Style Print. There is no limit to the amount of prints your guests can make.
Your guests Have the ability  to immediately post to social media, or email/Text there photos directly from the booth.
 We will create an Online Gallery where  all of  the original Photos taken from your event will be uploaded for you to download in Hi Res later on.
 Equipment used:
DNP RX1 Photo Printer
Nikon D810 Camera
DSLR Booth Software
Pro Backdrop Inc Backdrops and Stands
Photo Props, Signs, Boas, hats, Big Glasses etc
Touch Screen,     "Not an iPad " 
THIS PACKAGE GOES GREAT WITH A HASHTAG PRINTER ADD ON!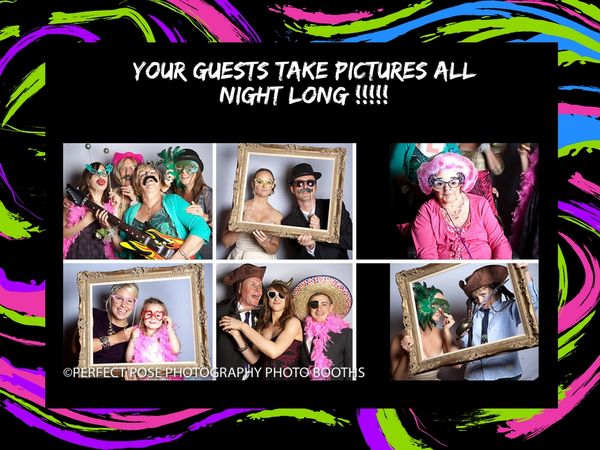 https://perfectposephotography.pixieset.com/cartwrightweddingphotobooth/